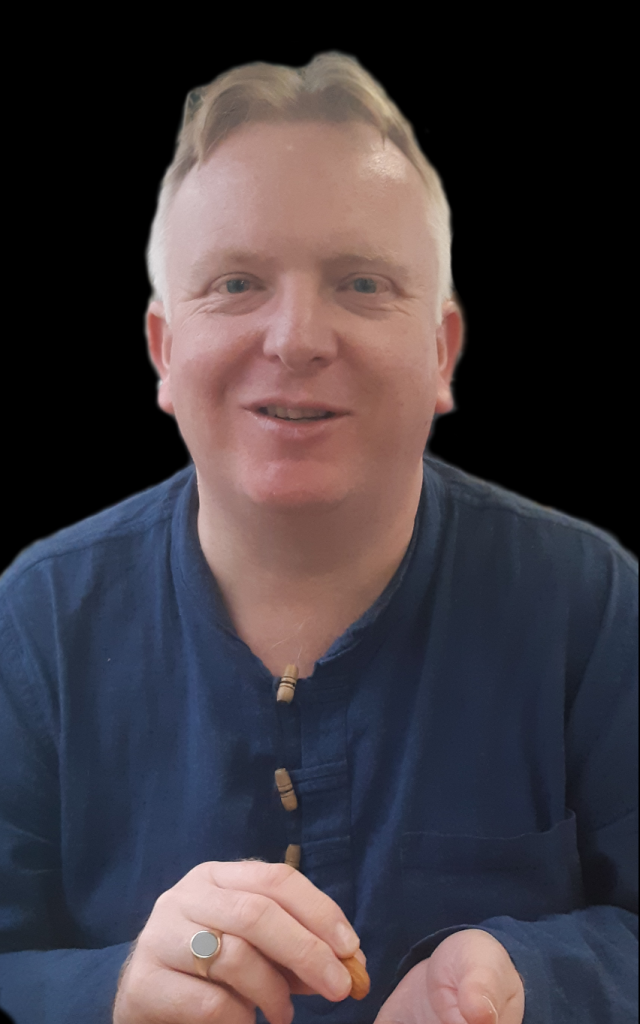 Kevin Groves currently lives in 'White Cliffs Country', Dover, UK. From a young age he found a love for ancient Egypt as well as many other historical periods.
Much of Kevin's story telling revolves around the classic literature of ancient Egypt, although he still enjoys drawing on tales across the centuries – including some that leap beyond the mundane and pull from his enjoyment of fantasy and gothic horror genres.
Kevin welcomes any invitation to talk at your festival or private event in person or over video link. Drop him a message and see where it will take you! Use the form below to contact me or if you rather use phone then 07900 230783 or email kgroves [at] kevingrovesstoryteller.uk will also work.
You can find a lot of free and public material on my YouTube channel at: https://www.youtube.com/c/KiyaheikeMeUk. Some Pay On Demand recordings for ticketed events can be found in my Shop above.
---
Kevin is a contributor to international, national and local projects, groups and events. Some examples include:
Edinburgh PBH Free Fringe (Online) 2022 – Many shows over the course of August. Check out event list above for mine and for all other free show performers visit https://freefringe.org.uk
Airy Fairy – Ancient Egyptian Storytelling – Adventure, Magic and Love – 29th October 2022

Atlantis Book Shop, London – Ancient Egyptian Storytelling – Adventure, Magic and Love – 1st October 2022

Kent Pilgrim Festival – Storytelling with Dover Talespinners – 24th September 2022

PBH Free Fringe @ Edinburgh Fringe – Six shows online (see recordings on my YouTube) – 6-27th August 2022
Avalon Room, Glastonbury – Ancient Egyptian Storytelling – Adventure, Magic and Love – 13th May 2022
BBC Radio Kent Upload – Short story 'Date Night' – 31st March 2022
Dover Community Radio – My poem 'Toast' and short story 'Mary Shelly' – March 2022
Jem's Happiness Anonymous Share Show – Share The Love – 17th Feburary 2022 ONLINE (https://youtu.be/QyTUkq0d0SY)
Pagan Federation 50th Anniversary – Samhain Storytelling – Oct 2021 ONLINE (Facebook Event Page Link https://www.facebook.com/events/411119510729533/)
Inky's Mystery Files – Halloween Scares – Oct 2021 ONLINE (Promo Links https://youtu.be/fg6aaHVp4wc and https://youtu.be/hBKZIxJ_eG0)
Jem's Happiness Anon Show Guest Contribution – August 2021 ONLINE (Link https://www.youtube.com/watch?v=CcDCAMuc1_E)
PHB Free Fringe @ Edinburgh Fringe Festival – August 2021 ONLINE (Six shows)
Kemetic Temple UK – Ancient Egyptian Storytelling – May 2021 ONLINE
Colour Of The Oak – April 2021 ONLINE
Tribal Gathering Spring Festival 2021 – March 2021 ONLINE
Glastonbury Bardic Moot – Jan and Feb 2021 ONLINE
Pagan Pathways Moot Stafford – 8 December 2019 ONLINE
CoA Witchfest Online 2020 (From 2 may 2020)
Scottish Pagan Federation Online Conference 2020 (Starting 25 April 2020, 5 day festival)
Winter and Christmas Storytelling for White Cliffs Countryside Partnership at Samphire Hoe (8 December 2019)
Storytelling at St. Edmunds Chapel with Dover Talespinners, Tales of Mullah Nasruddin (16 November 2019) (Review Link: https://dadonline.uk/updates/dover-talespinners-at-st-edmunds/)
---
His first book 'A Path Laid Bare' (2013) is available from The Wolfenhowle Press, with his 'House Of Kiya' series of booklets on various magical subjects and the first in a new series on ancient Egypt released Jan 2021.
Shop for his books, soaps and incense: houseofkiya.co.uk
Wolfenhowe Press: https://shop.thewolfenhowlepress.com/
YouTube Talks and Stories: https://www.youtube.com/c/KiyaheikeMeUk
Soundcloud: https://soundcloud.com/kgroveshok
Subscribe to our newsletter!